| | |
| --- | --- |
| | w/ Bad Company & Billy Squier |
Tuesday, June 5, 2001 Coors Amphitheatre - San Diego, Ca Review by antiGUY

I rarely will drive over a hundred miles to see a concert but when our special features editor Debbie Seagle called me late Monday afternoon and told me she had an extra ticket for Styx and Bad Company the next night, I jumped at the chance. You see, I've always been a huge classic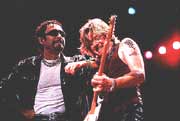 rock fan and the chance to see Paul Rodgers and Bad Company doesn't come along very often. As for Styx, I knew a bit about their history, could sing along to most of the hits and could tell you Styx wasn't just a river in Hades. Apart from that, I must admit I've never owned a Styx album; as the progressive arena rock of the 70's of bands like Styx and Yes was never my thing. So I went in with mild interest but came out with a new perspective of the group and a genuine respect for them as showmen and musicians. Debbie was at the show to cover Bad Company for a special Legends Feature and this review wasn't originally planned but after leaving the show that night I knew I had to write something about it.
I got to Coors Amphitheatre just in time to catch the end of Billy Squier's set. I know there is a whole cottage industry for bashing Squier; maybe that's why he hasn't toured in ten years? He had a slew of hits in the early 80's and a couple of multi-platinum albums but there was always that negative undercurrent among the rock faithful about Squier. Maybe it was his campy performances or his pink guitar or perhaps it was the over the top pop hit "Stroke" that sent rockers running for cover? Never the less, the crowd in San Diego seemed to welcome his return to the stage as they cheered along to his performances of "Rock Me Tonight" and "Everybody Wants You". Say what ever you want about Billy, the guy does know how to get right down and rock.
Next up was Bad Company. Talk about a legendary rock band, Paul Rodgers took control of the audience from the first note and didn't let go for the entire performance. Bad Company has been a staple on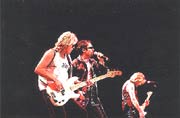 radio since they released their debut album under Led Zeppelin's vanity label way back in June of 1974. To this day if you listen to classic rock radio you are sure to hear one of many of their hit songs. I won't spoil things for Debbie as I'm sure she wants to give you all of the details of their performance in her upcoming Legends feature but I will tell you after seeing them live, it only solidified in my mind their position as legend's and I have to honestly say Paul Rodgers is one of most gifted vocalist to lend his pipes to rock!
Styx burst onto the stage with a few bars of Mr. Roboto, which brought the crowd to their feet, before breaking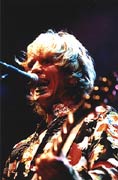 into a letter-perfect rendition of "Blue Collar Man". Tommy Shaw clearly showed who was the spiritual leader of the group now that Dennis DeYoung is out as he danced around stage with a huge all knowing grin on his face. Shaw took every opportunity between the songs to talk to the cheering fans telling stories about the band and encouraging them to pick up the new CD, STYXworld.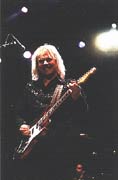 James "JY" Young looked as if he was having the time of his life as the band progressed through their greatest hits including Grand Illusion, Lorelei and Lady. The biggest surprise was keyboardist/vocalist Lawrence Gowan who was brought in to replace Dennis DeYoung in 1999. Gowan's nails the DeYoung vocals perfectly providing Styx with the best of both worlds, DeYoung's voice without DeYoung's attitude. Gowan pounded away at the keyboards on a circular platform that rotates 360 degrees, so he was able to serenade the crowd on all sides. For those who don't know the story, the group discovered Gowan when he opened for them in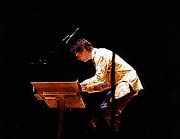 Canada in 1997. Virtually unknown in the U.S., Gowan had found major success in his native Canada with 3 platinum and 4 gold records to his credit. When the audience demanded two encores from Gowan, the band took notice and when the time came to hit the road without DeYoung he was their choice to fill the pivotal position. Judging by his performance in San Diego he has more than risen to the challenge.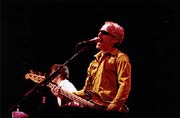 The vocal duties were shared among Shaw, JY and Gowan for most of the night. But Glen Burtnik surprised the crowd when he jumped from the stage, ran to the middle of the amphitheatre and started singing "Love is the Ritual", the crowd went nuts but they were in for an even bigger surprise in a few minutes.
Tommy Shaw stood at the mic with a sinister smile spread across his face and announced that they had a special surprise for the crowd. "I'd like to bring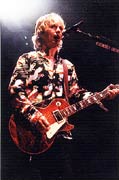 out one of the guys who started this band in a basement back in Chicago, Chuck Panozzo!" Chuck took to the stage and the band broke into "Foolin Yourself". The hits just kept coming with "Miss America", "Too Much Time on My Hands" before they closed with an mesmerizing performance of "Come Sail Away" complete with a wall of confetti exploding from the lighting rig at the dramatic conclusion.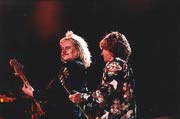 The crowd wasn't going to let Styx call it a night yet and the cheers and yells compelled the band to return to the stage for an amazing encore performance of "Renegade".
Styx has taken a lot of flack over the years from the nay Sayers and critics, but after witnessing their show live you have to respect these guys. At their height of popularity they sold 4 consecutive triple-platinum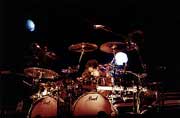 albums; a task that was unheard of in the 70's let alone today. Sure Styx isn't for everybody but for those true believers who continue to fill arenas and amphitheatres to see their musical heroes, it just doesn't get any better!

Want Some More?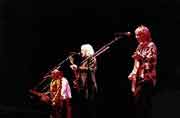 Visit The Official STYX web site
Purchase STYX music online and listen to sound samples

Visit The Official Bad Company web site
Purchase Bad Company music online and listen to sound samples





Photos by Debbie Seagle. Copyright 2001 Groove Quest Productions. May not be used without permission all rights reserved.