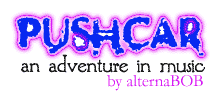 Pushcarís Apartment D is a pleasant surprise for a new release in this post 90ís pop/rapmetal dominated world. The hardest task in reviewing this CD is trying to classify it in a music genre; I have tried in vain for weeks and still havenít come up with a workable style to place it into, because it really borrows from a lot of genres. At times itís Radiohead, early Soul Asylum, The Posies or the Pixies, at others it sounds a bit like the Smiths and then takes off in a different direction all together with a convincing post grunge alterna-pop, add in some thought provoking Acid Rock and thatís just the first two tracks!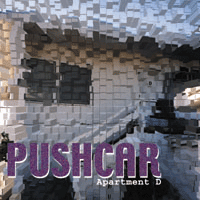 The thing about Pushcar is they fall into the Radiohead/Beck/Pink Floyd trap where fans will either love it to death or not understand what all the hoopla is about. The hoopla is the fact that this is thinking fans music. It doesnít follow set conventions, it doesnít aspire to be anything itís not and it sure as hell doesnít use a pop formula. What you get when you pop Apartment D into your CD player are twelve well crafted musical adventures, not some bland play and write by the numbers formula rock songs.
If you are musically adventurous enough to check out this disc, you will end up with twelve solid tracks that easily stand on thier own with each exploring different musical directions, while maintaining solidarity in style. Very few bands can pull this off, most end up like U2 simply rehashing and reworking the same song over and over again hoping the fans donít notice how limited the music really is. Not so with Pushcar.
Pushcar the band is a collaboration between Jim Saunders and Chris Farrell with a host of guest musicians plying their talents to complete the picture.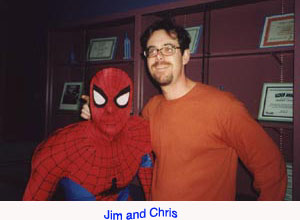 Fans of Orange County Hard Core might recognize the name Jim Saunders, he once headed up the band Second Thoughts, which released a successful self titled CD and shared the stage with The Offspring, No Doubt and the Adolescents. Pushcar is a whole other world for Jim, with his partnership with Chris Farrell they have found their muse and musical calling.
Chris found success in the California music scene with his bands Bubbis and Curse Toast. Jim joined with Chris briefly in Curse Toast, but their musical fortunes were elsewhere so when the band broke up in 1998 they decided to form Pushcar and combine their songwriting talents to create a modern day Lennon/McCartney or, if you prefer, Gilmore/Waters musical team.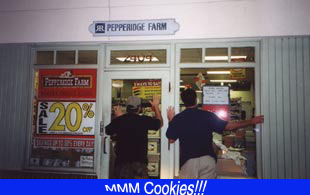 The CD has a surreal feel to it that captures a live vibe but also has a polish to the production that would stand up to any major label effort. In fact, a hard-core music fan would be hard pressed to find many full-length albums that measure up on production value alone. Amazingly, this album wasnít recorded in one of the worldís finest recording studios, all of the recording sans the drums took place in Jim's apartment D in Santa Monica, Ca.
Rich harmonies, catchy melodies mixed with some remarkable guitar leads that capture some of the best elements of rock music from the past four decades, Apartment D is a necessary addition to any serious music fans CD collection.
Who is Pushcar?
Jim Saunders
Chris Farrell
Get some more Pushcar!
Be sure to check out the Pushcar web site for more MP3's, Real Audio and information on the band!