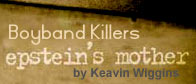 .

RNW: I know that the name Epstein's Mother comes a phrase that was used quite a bit in the sitcom Welcome Back Kotter, but how did you come to name your band after that?
Shawn: I was on a softball team that had the name, Epstein's Mother. I figured if we named the band after the team we have at least 9 guys at every show. It worked for a while. We have even joked about naming our fans, The Sweathogs. The band has done much better than the softball team ever did and I think those guys are a little bitter now. Maybe we should look into changing the name to Fonzie's Cousin.
RNW: Speaking of Welcome Back Kotter, any plans to cover a John Travolta song?
Geoff: I don't think we will be doing that but with us, you never know.
RNW: Shawn, on all of the songs you play acoustic guitar to complement the rockin' sound of the band which really adds a depth to your overall sound, how did that idea come about?
Shawn: I am a big fan of the sound of the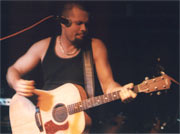 acoustic and electric guitars together as long as they are not playing the same thing at the same time. That combination gives the overall sound of the band the depth that you mentioned we have. I still like to cut loose and bash on an electric every now and then, but for songwriting and rounding out our sound, there is nothing like the sound of my Taylor.
RNW: How did you land Mike Sak as the producer for your debut, "Subtle"?
Geoff: We were recommended to him by another band in Las Vegas that he was working with. We were really not aware of his history until we started working with him. We knew that he had worked with the Goo Goo Dolls, but we didn't know of much more than that. We brought him some demos of about 30 tunes that we wanted to record. We also had a list of 15 or so tunes that we thought would go on the record. I think only about 5 of those tunes made it on to Subtle.
RNW: When you guys land the right kind of record deal, will you ask Mike Sak back to produce that record?
Geoff: It is too early to have that answer. We enjoy working with Mike, but you never know where we will be when that deal happens.
RNW: Geoff I understand that as a kid your first passion was Baseball, how did music come to play the dominant roll in your life?
Geoff: I met some friends in High School that loved music more than anything. I learned from them that music is something you can always find an outlet for creativity but more importantly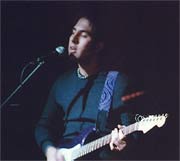 education from. What I mean is that I love learning and I know that I will always be able to learn about music. This happens on a daily basis. I try to show my students this as well. I do still love sports, however.
RNW: I understand the Chris (Morrison) and Jeff were in a Jazz Fusion band together in while attending UNLV, how did you end up teaming up with Shawn who I have read was doing an acoustic rock thing before the band formed?
Geoff: Chris has always been my favorite drummer to play with, since I met him at UNLV. We were able to alot of various types of gigs. I played on his recitals, where we were able to play music of some of our influences like Pat Metheny. He played vibes, drum set whatever. When our original drummer did not work out, Chris was the first one I thought of to be in the band. He is just such a talented musician and I am so honored to be in band with him.
Chris: Geoff and I were roommates. Shawn had a disco revival thing with Geoff, happening during the last half of 1996. The group with their drummer, at the time, would rehearse at the house so that's how Shawn (I believe) became aware of me. when Shawn was ready to put forth a demo of some originals that he had written I was the one who ended up doing the disc. Incidentally, it was with this post-UNLV fusion group (which Geoff was involved with) that Shawn first got to hear and see me play.
RNW: You have new member to the group, how did you find Brady? Did you put him through any hellish initiation rituals?
Geoff: Everyday is a initiation for him. We have not done anything worth mentioning yet because we are waiting until he is comfortable. We will get him when he least expects it!
RNW: You've seen how I describe your music sort of a modern day Steve Miller band meets the Commodores. How would you describe Epstein's Mother to someone who has never heard you before?
Shawn: I try to stay away from comparing us to other artists because there is not one band that we sound alike. We have been compared to Tonic, Splendor, Sister Hazel, matchbox twenty, Steve Miller, Creed, Edwin McCain, Goo Goo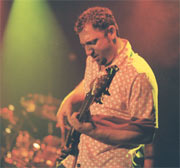 Dolls, etc... So I would rather just describe us as four eclectically influenced musicians who play thought provoking modern rock with an underlying of everything! I think I am going to write that on a bathroom wall.
RNW: along those same lines who are your major influences?
Geoff: I am influenced by so many things. I love jazz, straight ahead and even the really out stuff. Chris and I are huge fans of the jazz-fusion music of the 60's, 70's and 80's. I also love classical and of course rock and roll. Brady is a big fan of rap and he also love the shred guitar sound of the 80's. Shawn is the hardest to describe as far as influences because he is a fan of great songs regardless of the genre.
RNW: Were you surprised the first time you noticed that you have cross over appeal? I mean come on you had to notice head bangers dancing at your shows!
Geoff: Honestly, not really. We also enjoy all types of music so we expect our fans to as well. You can't deny good songs and that is what matters the most, not the style.
RNW: Just a couple more questions. At a recent show I witnessed something that simply can't be described to the reader, it was your offhanded cover of Limp Bizkit's Nookie. How did that come about?
Chris: Ahh, yes, da Nookie. The band was planning to do something unique for the end of our cd release party for Subtle, which was in January of 2000. Shawn had been slamming to the tune all weekend on a drive to and from California so the song was on his mind. We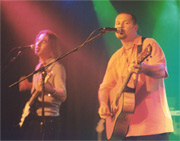 figured we'd do a cover and stick the chorus of Nookie somewhere in the middle. Well, we all asked for copies of the song to learn. On the drive back to my apartment I thought that I might give this ridiculously mean tune a shot. I called Shawn up and left a message saying, very Sam Kinison-like "give the song to me." I transcribed it, worked it out and we rehearsed it for the party. We were going to have everyone from the opening bands on the gig come up and do Jack and Diane and cut into Nookie with me up front. But, because of time restrictions we never did the tune, which is too bad because the entire front section was ballistic teenagers. The tune would have worked, big time.
Geoff: We have played it at many shows. One night in Winter Park Colorado we decided to do it because the audience was unfortunately, so lame and we wanted to do something different. It was the highlight of the night. We are going to retire it. I think you saw the last version. We will probably come up with something new soon.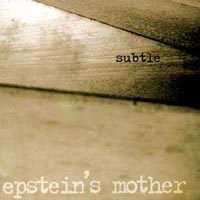 RNW: What next for Epstein's Mother?
Geoff: In March we are playing The South By Southwest Music Conference, in Austin Texas. We are really honored to have that opportunity. After that, we will keep writing and playing. As a matter of fact we are going to go back in the studio soon to demo a bunch of new material we have. We will also keep playing as many gigs in Vegas and out of town as we can. It is a lot of fun playing to audiences in other towns to see their reaction of Epstein's Mother. So far everywhere we have gone has been such a positive experience. Obviously we hope that a lot of the momentum and "buzz" that is happening for us will keep going. We feel that the right deal will happen. So we will just keep doing our thing regardless.


Get More Epstein's Mother
Visit the official site for all the Epstein's Mother content you can handle!