gODHEAD
Interview by antiGUY


I first heard Godhead on the Blair Witch 2 soundtrack last September. Their song "The Reckoning" opened the disc and I was immediately hooked on their heavy goth-industrial sound. They put out lots of power but at the same time keep things real melodic, it's a tough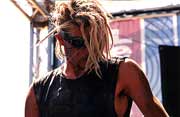 balancing act but they make it seem effortless. When I heard their full length debut CD on Marilyn Manson's Posthuman Records I knew these guys were real contenders as rest of the songs measured up to the power and intensity of "The Reckoning" but also were pretty diverse, this isn't a band that puts out a dozen songs that sound all the same. So last February we named gODHEAD artists of the month on antiMUSIC to celebrate the release of their Posthuman debut, "2000 Years of Human Error". Then back stage at Ozzfest, their publicist asked me if I would be interested in sitting down with the band and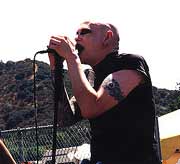 asking them a few questions. I jumped at the chance and our conversation follows. Needless to say, I didn't have the chance to form some compelling questions beforehand but the interview turned out great anyway. So without further ado here is my conversation with gODHEAD backstage at Ozzfest. -aG


antiGUY for RNW: I don't have any prepared questions so we are just winging this.
Mike: Who are you with, antiMUSIC?
RNW: Yeah, we publish a couple of other sites too. You guys were actually artist of the month on antiMUSIC a couple months back.
Jason: I remember that. I checked that out, I liked the website.
Mike: I don't know how to take that; Artist of the Month at antiMUSIC? It's like we're not really music?
Jason: Stop!
RNW: It's not like that, its meant to be ironic. A music site called antiMUSIC.... (Mike nods letting me know he was pulling my chain) You guys have been out a while on the indy underground scene in DC, how did you hook up with Marilyn Manson.
Method: We actually had two albums out on a small independent label out of New York. So we toured quit a bit under the radar of the industry we toured with Gwar. Then we were on tour with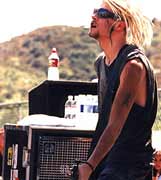 Christian Death a very gothic band and when we played in Hollywood they [posthuman records – Marilyn Manson's label] sent some people out to see us. We're not 100% sure how he originally found out about us, but he did and sent some people out and it worked out great. We showcased for a lot of major labels but this was the way we wanted to go.
Jason: It just totally fell in our lap and it worked out great.
RNW: You guys just released the video and single for Eleanor Rigby. That was on your last album as well right?
Method: Yeah.
Jason: It was a different version.
Method: We redid it.
Method: the decision behind that was this was kind of our first mainstream album; we didn't want to leave anything off. We wanted to put the best package of songs together and we realize this would be how people discovered us for the first time, which is how it is.
Jason: Plus the time and the money wasn't really there for the "Power Tool Stigmata" version to really do it justice. We wanted to do it again and once we started working on it we realized we could do it a lot better and do it justice a lot more. Especially taking into account that was going to be a lot more people hearing this version then the other version. So we just decided to go for it.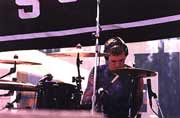 Method: If you have a very different, unique sound you need somekind of familiarity for fans to connect to a new band. So you give them some familiarity, and old song with a brand new sound to get them used to the brand new sound then after that you can give them a brand new song with a familiar sound. In our case it was really almost necessary because we are kind of unlike anything else that's out there on radio.
Mike: It was kind of necessary to get people used to us.

RNW: How did the reckoning do? You guys had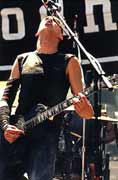 that out on the soundtrack to Blair Witch 2 before the album came out.
Jason: They didn't really go full force, it was like an official release.
Method: That was our first radio single.
Mike: I think a lot of people were confused where to put it [on radio]. Radio programmers are all about categorizing everything. We are kind of against that.
RNW: So where do you guys think you fit in there.
Method: Kind of hard to say. Honestly we are going to fit where we end up falling.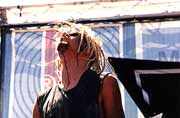 RNW: Great. How is the Ozzfest going for you so far.
Mike: great. It's a little early for us.
Method: We actually leaving to tour with Rammstein for a while but then we are coming back.
RNW: that will be a good tour for you guys.
Jason: A perfect fit.
RNW: Any good behind the scenes stories from Ozzfest?
Mike: It's like really odd, it's like a big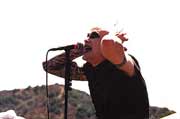 campground, tailgate picnic party everyday with a bunch of bands.
Method: You wake up surrounded by a bunch of buses. BBQ going on here and there, everybody has got their lounge chairs out and their little bikes and are riding around while everyone is sun tanning. It's a good time.
Jason: Everybody just kind of hangs out.
RNW: Get to know any other bands out here?
Jason: Annoy them?
Mike: Know them! (laughs)
Method: It thought you said annoy them too.
Mike: That's the cool thing about it, people you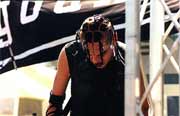 would never think we would ever get along with like the lead singer of Crazy Town; He's the nicest guy, we thought he was you know…
Jason: [interjecting] We thought otherwise..
RNW: That about wraps it up. Great set today and good luck on the Rammstein tour.
Method: Thanks man…
Jason and Mike: thanks.

Visit the official Godhead site to get more info on the group, listen to song samples, read the latest news, check out the huge photo collection and see if they are coming to your town.

Visit Posthuman Records for the latest news, reviews and tour dates.
Photos by Keavin Wiggins. Copyright 2001 Iconoclast Entertainment Group - All rights Reserved.